The 6th Digital Belt and Road Conference (DBAR 2022) Held in Beijing
The 6th Digital Belt and Road Conference (DBAR 2022) was held on the 7th to 9th of September 2022 in parallel with the 2022 International Forum on Big Data for Sustainable Development Goals (FBAS 2022) from the 6th to 8th September 2022. The theme of DBAR 2022 is a "Digital Sustainable Future" to promote new research and applications of Big Earth Data in interdisciplinary fields, as well as promote digital technologies and solutions for sustainable development in the Belt and Road region. Nearly 200 experts from China and abroad participated online. More than 70 presentations were delivered in 12 sessions, focusing on 9 topics: Agricultural Monitoring and Food Security, Management of Coast and Sea, Environmental Change Assessment, Heritage Conservation, Urban Sustainability, Climate Action in High Mountain Asia and Arctic Regions, Water and Land Management, Data Sharing and Disaster Risk Reduction.

DBAR 2022 highlights the rapidly growing importance of digital technologies, the UN's efforts towards improving Global Digital Cooperation, and the need to emphasize the potential of big data and digital technologies for global implementation of the Sustainable Development Goals (SDGs). These global developments provide new opportunities for DBAR to participate in this global effort to improve digital cooperation and utilize Big Earth Data to develop new digital information products to support and ensure informed policies in attaining the SDGs in the Belt and Road region. DBAR 2022 also prominently features the importance of big data in light of the implementation of the United Nations 2030 Agenda for Sustainable Development facing several challenges due to data gaps, which limit the ability to comprehensively understand critical interactions between different SDGs. Filling in these data gaps can help develop informed implementation strategies and allocate needed resources in accelerating the progress towards sustainability.

All DBAR Working Groups presented their ideas on the best approach to improve DBAR data coordination between different Working Groups and access to available data resources within the program, including with DBAR partner organizations and the DBAR International Center of Excellences (ICoEs) in the session of DBAR Data Sharing and Applications. The data session is part of the transition of DBAR from Implementation Phase I to Implementation Phase II.

A new theme focused on during DBAR 2022 was China's Global Development Initiative (GDI) to highlight the how DBAR research using Big Earth Data in the Belt and Road region can also contribute to several of its core principles. The GDI aims to promote people-centered and innovation driven development, leaving no one behind while preserving balance between human and nature. With good parity between SDGs and GDI, DBAR can work to progress in both initiatives. To this end, DBAR plans to strengthen and expand the network for international scientific and technological cooperation, enhance Big Earth Data infrastructure, promote reliable data sharing and mutual benefits, develop and promote Big Earth Data application services, guide Big Earth Data cooperation in the Belt and Road region, and play a leading role in developing new research theories and methods to facilitate data driven policies towards realization of SDGs in the Belt and Road region.

On the side lines of the conference, DBAR also organized its annual Science Team Meeting and the Science Committee Meeting to deliberate on improving research on the SDG system of indicators and their evaluation methods in the Belt and Road region. The meeting was attended by several international experts from over 20 countries. Prof. Guo Huadong, Chair of DBAR stressed the need to improve DBAR outreach and productivity with the hope that DBAR will benefit from the evaluation report completed this year. He highlighted new opportunities for DBAR with growing global development towards digital technologies, and opportunities for DBAR regarding new data resources such as SDGSAT and collaboration with the International Research Center of Big Data for Sustainable Development Goals (CBAS) in order to improve DBAR impact in sustainability research towards development in the Belt and Road region.

The 2022 Science Team Meeting
The DBAR Secretariat introduced the latest external evaluation committee report and several procedural documents as part of a formal proposal for DBAR Strategy during Implementation Phase II, which include terms of reference and rules of procedures for DBAR that were prepared to guide the development of DBAR during the next phase. During the Meeting, the DBAR Working Groups and ICoEs also presented their progress during the past year and plans of action for 2023.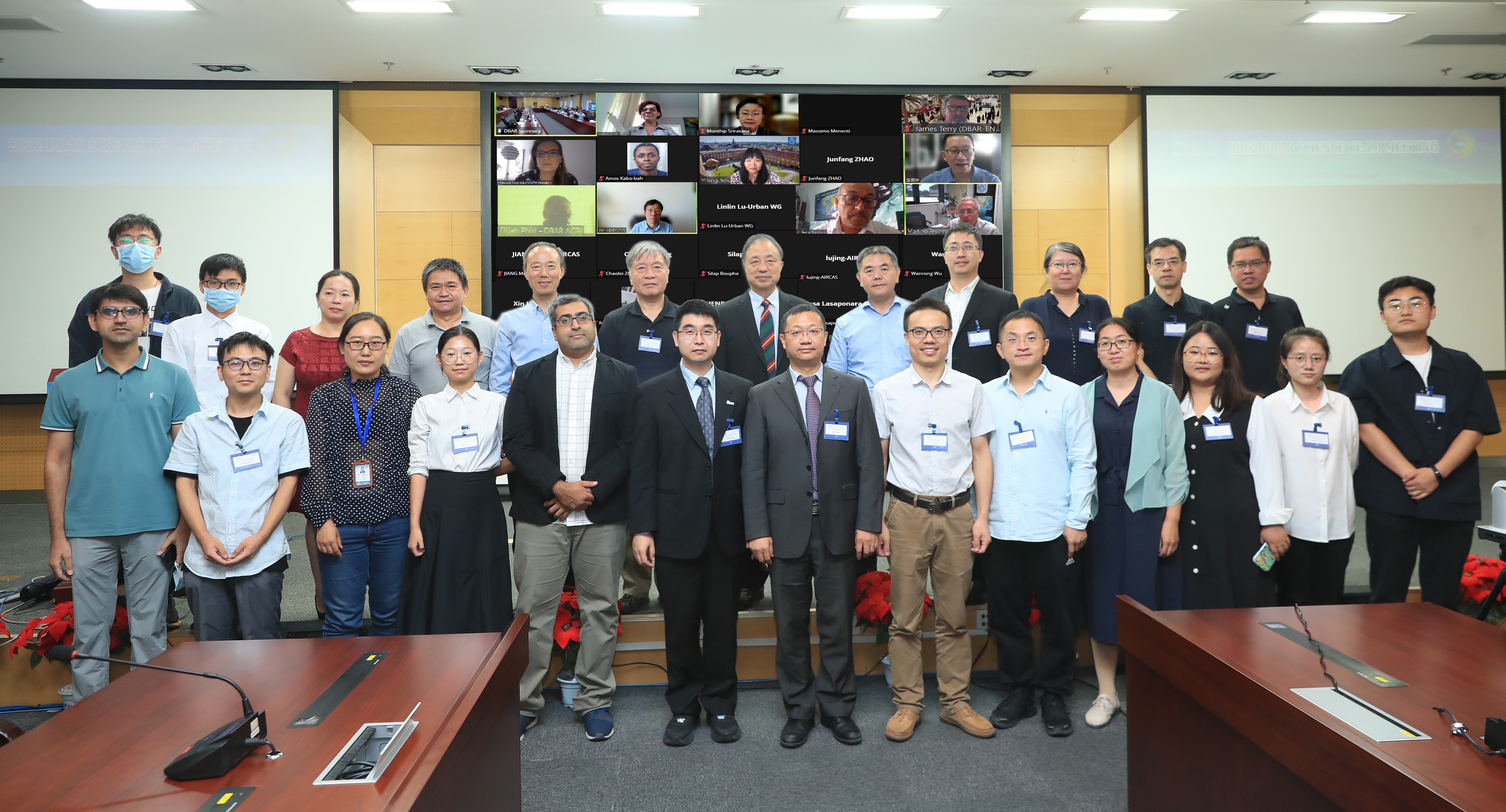 Group photo at the 2022 Science Team Meeting

The Science Committee Closed Door Meeting